We're SO excited to introduce you to the Soulful Life Sanctuary!
If you're ready to reconnect with your soul and connect with other like-minded souls in the process, then this is the space for you! We would love for you to join us inside!
My husband, Dan Teck, and I created the sanctuary to give each of us a special place where our hearts could share openly and expand with others who are on a similar journey.
We wanted to create a sacred community where we lift each other up and support each other in listening to our soul's whispers.
We wanted to bring together soulful tools to help you along your journey and soulful guides to support you along the way.
I have found that it's sometimes easier to disconnect from our soul - our true voice, our purpose, the deeper meaning of life - than it is to stay connected. Life gets so busy, and DOing sometimes seems to be given more priority than BEing.
This is something that I've struggled with throughout my life, actually. I've accomplished some really great things through doing and pushing and achieving.
And I'm so grateful for that. But I found that all of these achievements didn't mean anything to me if I lost my connection to my soul and to the universe and to what's truly important in my life. If I wasn't present or grounded, I wasn't able to enjoy these accomplishments. They felt hollow to me, and I couldn't feel grateful for them.
I found that when I was connected with my soul and grounded in this loving space, I could appreciate everything that happened in my life much more easily.
It's almost like when I'm disconnected, my life is in black and white. And when I'm connected (to myself, others, and the universe), I see everything in bright, beautiful color.
That's what I hope this special space will do for you: help you feel more grounded and present in your life so that you can also feel connected and can see your world through a lens of beautiful color!

We created the Soulful Life Sanctuary for all of us. We created it so that we would have a space to go to relax, recharge, rejuvenate - a space to go to plug back into our connection with ourselves, others, and this beautiful universe that we are a part of.
It's our hope that this will be a refuge for all of us. A place where we can be ourselves - where we can let love flow freely. A place where we can support each other - where we can learn and grow and evolve and feed our inner flame that so desperately wants us to pay attention to it and heed its whispers.
There is so much to see inside the sanctuary - it's seriously jam packed with goodness! Everything that you could possibly need to reconnect with your soul, connect with others, and embrace your life exists inside the sanctuary. You'll find tools to help you feel more grounded and help you slow down, and you'll find people who can't wait to support you throughout your journey.
Please click below to watch a virtual video tour of the sanctuary! It's a great way for you to see some of the goodness that's inside!
The Soulful Life Sanctuary is a perfect fit for you if:

You are feeling called to slow down and reconnect with your soul, your purpose, and your place in the world.

You are tired of feeling like you're walking through life alone, and you want to connect with others who are on a similar journey. You are ready to meet more members of your soul family and share your experiences.

You are excited to immerse yourself in a loving community that offers soulful tools to help you become more grounded and connected to both the physical and the spiritual world.

You are ready to show up authentically and openly. You are ready to get real - with yourself and also with others. You are so ready to be in a supportive, safe space where you can take off your mask and let others see the real you.

You are open to spiritual growth, and you want to grow and learn through ecourses and live classes.

You are ready to step into your soul's purpose (or at least explore what that purpose might be).

You are ready to give yourself permission to Be more and Do less.

You are ready to love and be loved. To give and receive. To stay open to the magic that is all around you.

You are ready to come home.
If this sounds like you, we can't wait to welcome you in the sanctuary! We can't wait to be on this journey together!

We're so excited to share all of the goodies that you'll receive when you join us in the sanctuary!
Please read on to see all of the amazing resources that you'll have access to inside!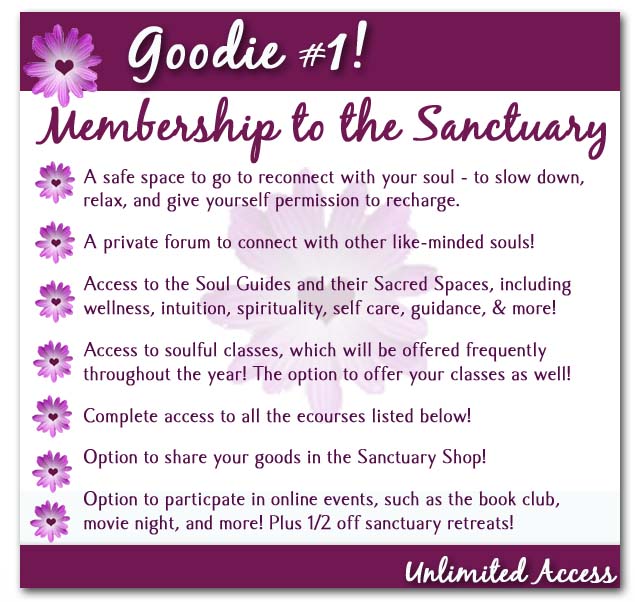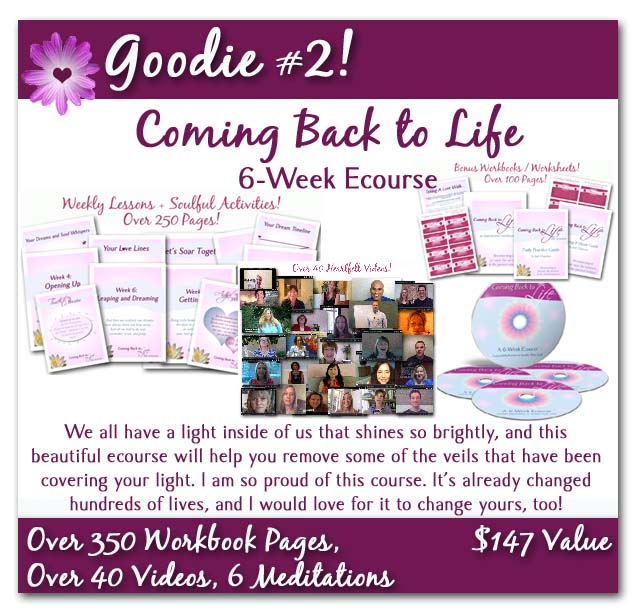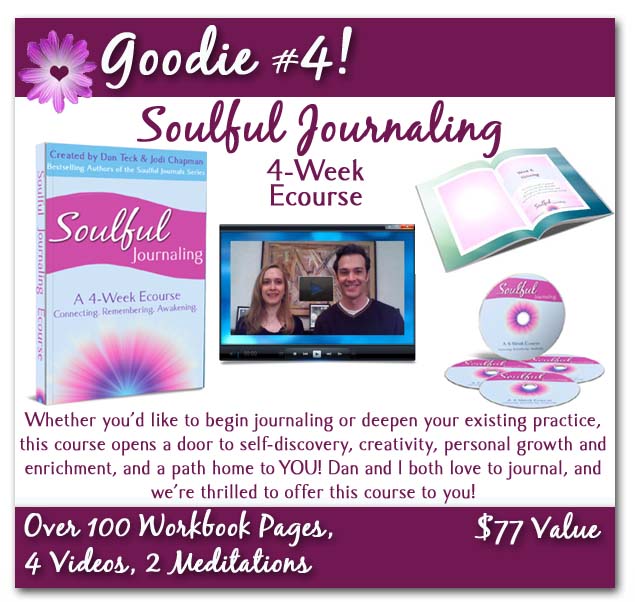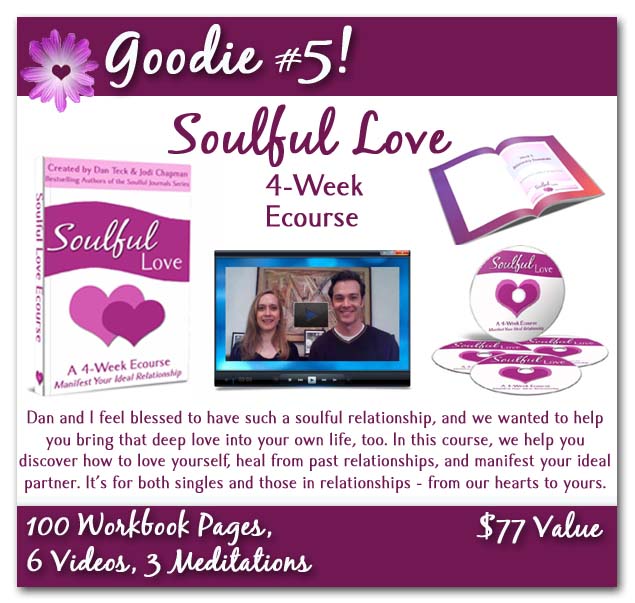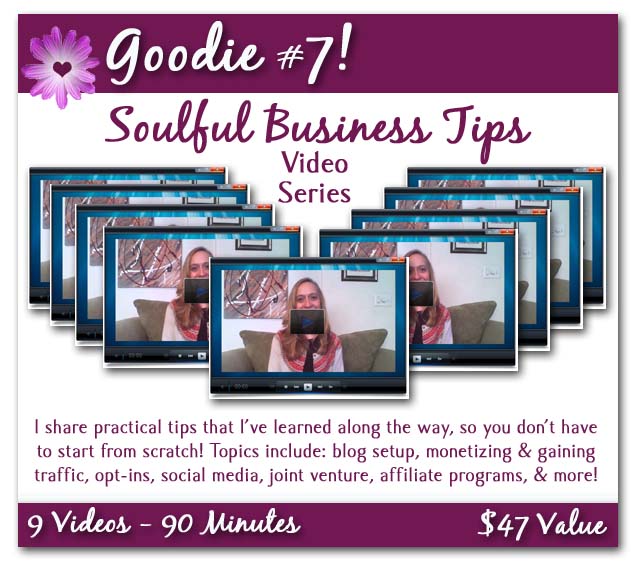 All of the goodies together total over $1000, and they are all included in your membership price!

The sanctuary contains many Sacred Spaces, where you get to connect directly with some amazing souls who are there to support you.
I'm so excited that some of my favorite people are also Soul Guides in the sanctuary!
They are there to offer extra love and support to you, to help you find your way around, and to share their soulful expertise. They have each been given a special space that focuses on a topic they are especially interested in. They will be spending most of their time in these groups - offering love and support to you!
You can meet them all and learn more about the Sacred Spaces that they'll be sharing with you in this video:
You can get to know the Soul Guides even better by reading more about them here (in alphabetical order):

In addition to these spaces that are led by the Soul Guides, there are also spaces to share about meditation, spirituality, our businesses, give and receive angel and energy readings, share what inspires us, be part of our gift exchange, and so much more!
There are 2 membership options for the sanctuary: one yearly payment and monthly payments.
With either option, you will receive the following:

Unlimited access to ALL ecourses mentioned above (over $1000 value)

Unlimited access to the sanctuary community, which includes over 1000 pages filled with soulful discussions, blogs, and ways to get in touch with your soul

Unlimited access to dozens of Sacred Spaces & 10 Soul Guides

Private Facebook Group

Free access to frequent online classes - presented by other sanctuary members

Ability to offer your products/services in the Sanctuary Shop and teach workshops inside the sanctuary

Optional participation in our book club, live chats, and all other sanctuary activities

1/2 off all sanctuary retreats
Please click on the option that feels right for you. I can't wait for you to join us in the sanctuary!












Will I be grandfathered in with this price forever?
Yes!!! As long as you remain a member and don't let your payments lapse, you'll stay at this low price - no matter what price the sanctuary goes up to!

How long will my membership last?
If you sign up for a yearly membership, your membership to the sanctuary is for 12 months. You'll receive an email a couple of weeks beforehand reminding you about your renewal. You can cancel your membership at any time, but you will still have access to the sanctuary for the full year (it just won't renew at the end of the year.)
If you signed up for the monthly membership, you'll remain a member as long as your payments are current. If you decide to cancel, your membership will end at the end of the month that you last paid for.

How long will I have access to the course materials and the goodies inside the sanctuary?
As long as you're a member, you'll have access to everything in the sanctuary, which includes all of the courses, the private Facebook group, the sacred spaces, the classes, the shop - absolutely everything!

How much time do you recommend spending in the sanctuary each week to make it worthwhile?
The true answer is whatever feels right for you. There is A LOT of goodness in the sanctuary, and it's definitely something that you'll want to pace yourself for to really be able to soak it all up.
Some weeks, you may spend more time in the sacred spaces or in the Facebook group - connecting with others and sharing from your heart. And other weeks, you may just want to sit back and go through one of the ecourses on your own. Just like life ebbs and flows, your time in the sanctuary will most likely do the same - sometimes you'll be more "in it" and other times you'll just take what you've learned and spend time letting it seep into your heart.
There is no right or wrong way to use your membership. You'll know how much or how little time you want to devote to the sanctuary. There will be always be new discussions to respond to and will frequently be new workshops and courses to sign up for. And you'll know which ones are calling you by listening to your heart. You'll know exactly what to do and when and how often to do it. :)

Is the sanctuary based on any religion?
At the risk of outing myself as a major cheeseball, I would say that the sanctuary's religion is love. I believe that at the heart of every religion, love is the common denominator. The sanctuary does have a spiritual foundation - a place for seekers to learn and grow. I believe that we are spiritual beings having a human experience. But you don't have to believe that to join us. Whatever your beliefs are, I think we all can agree that it would be wonderful to spend our time here on Earth as joyfully, consciously, and soulfully as we are able to. That's the common ground that we all can meet on.

I would love to take the courses with other members in the sanctuary - is this possible?
Yes! When you sign up, you'll have instant access to the courses, so you can begin them immediately. However, it's so much fun to take them with others and share your experience. With that in mind, we take the courses together every other month! We'll have a group set up for each course with discussions and ways to share your experiences.

Who is the sanctuary open to?
It's open to anyone who wishes to reconnect with their soul and connect with others who are on a similar path. It's open to everyone around the world - men and women. You must be at least 18 years old to join.

Will I be able to share privately in the sanctuary?
Yes! It is a safe space where you can share from your heart. The groups and forums will only be able to be viewed by other sanctuary members. And when new members join, they will be asked to agree to keep the sanctuary private and not share what happens within our sacred space with anyone outside of it. With that being said, please only share what you are comfortable with and what you are okay with others reading.

I would love to pay for someone else to become a member - is this possible?
Yes – I love it! You can either donate to a specific person, or your donation can go into the Angel Fund. If you donate to a specific person, you would pay and then send me their email so I can get them registered. (Please make sure they give you permission to do this.) You can also donate anonymously to the Angel Fund. In this instance, I will pool all of the donations together and use them as requests come in for assistance. This is such a fun way to make it possible for everyone to join the sanctuary!

Do you offer a scholarship program?
It's my heart's desire that anyone who wants to join the sanctuary is able to. For this reason, I have set up an Angel Fund for those who would like to join and are currently going through a hard time financially. You can learn more about it here.

What's your refund policy?
Because you'll have instant access to all of my courses, which are valued at well over the membership price (over $1000), your purchase for the sanctuary will be final. I am someone who tends to over-deliver though, and the membership price is super low for all that's included. I give everything I have to make sure you're happy with the sanctuary and also with the courses. If you aren't sure, please click here to read some of the testimonials about me and my work and here to read more about the courses before you sign up. It's such a loving space inside, and I can't wait for you to join us!

If you have any additional questions, please email us here: support@soulfullifesanctuary.com.
Please choose your preferred membership option and join us today!


I know that being a part of the sanctuary is going to change our lives in such huge, wonderful ways. Something truly magical happens when we say yes to life, when we embrace our connection with others, and when we let our soul's voice lead the way. By joining this sacred space, you're allowing your heart to guide you. My soul's so excited to welcome you home!
There are already over 100 of us inside this sacred space, and I would be so happy if you joined us!
If you have any questions at all, please email me here: support@soulfullifesanctuary.com.
I can't wait to see you inside the sanctuary! We're going to have so much fun together!
Hugs,